This page is updated by both the Human Rights & Equity Committee members and the Communications Officer.  If you have something that you would like to be added, please contact commofficer@cupe728.ca
---
The Human Rights and Equity Committee shall consist of not less than three (3) members.  This committee shall strive to achieve and maintain the following objects:
a) To promote a solid understanding of human rights
b) To promote the principles of equal rights and equity from a union perspective.
c) To encourage recognition of an action that would eliminate stigmas, stereotypes and other barriers facing minority groups.
d) To involve as broad a cross section of people as possible in any and all union and community endeavors.
e) To promote fair and equitable treatment for all.  The committee shall work in conjunction with CUPE BC and CUPE National in order to achieve the above goals with the utmost efficiency and timeliness.
All reports and proposals of this Committee shall be made available to the members for information at the next general meeting, following presentation to the Executive.  Also, the reports and proposals are to be published in the monthly Chronicle that precedes the meeting the reports and proposals are tabled at.
The 2022/2023 Committee consists of the following CUPE728 members:
Manny Tunchez
Edward Parsotam
Nora Hooper
Cassie Deezar
Amanda Williams
Lisa Kennedy
Allan Henricks
Vacant
Roadmap on Disability and Duty to Accommodation (1)
IMPORTANT DATES IN MAY

"If there is a holiday/event that you would like the Human Rights & Equity Committee to discuss or highlight, please email details to office@cupe728.ca"
1
In Canada, May is Asian Heritage Month is an opportunity to celebrate the contributions that Canadians of Asian descent have made, and continue to make, to Canada's growth and prosperity.

This commemorative event showcases the innovation and perseverance of public servants of Asian descent and their impact across the federal public service.

On May 6th, there will be a diverse group of panellists who will share their lived experiences and highlight their work to eliminate racism and discrimination towards creating a more diverse and inclusive public service.

A Q&A session will follow the live panel discussion.  To register, click here Asian Heritage Month 2022: Celebrating Innovation and Perseverance – CSPS (efpc.gc.ca)

This event is part of the Anti-Racism Event Series and is presented in collaboration with the Network of Asian Federal Employees.

1
In 2018, Parliament unanimously passed a bill proclaiming that throughout Canada, the month of May will be marked as "Canadian Jewish Heritage Month", celebrating the inspirational role that Jewish Canadians have played and continue to play in communities across the country. From law, to politics, to culture, to sports, this important initiative celebrates the contributions Jewish Canadians have been making to this country for 250 years.

This type of initiative helps Canadians understand one another by allowing different communities and cultures to be showcased and celebrated. Jewish Canadians have made enormous contributions to the fabric of Canadian society, and regardless of their cultural background, all Canadians are rightly proud of the country we have built together. Understanding and appreciating the contribution different communities make to Canada brings us close together.

For more information, click Front Page – Jewish Heritage Month

2
Eid al-Fitr for the year 2022 is celebrated/ observed on sundown of Monday, May 2nd ending at sundown on Tuesday, May 3rd.

Eid al-Fitr is on the first day of the month of Shawwal (Islamic Calendar) and marks the end of Ramadan (month long fasting) and the beginning of a feast that breaks the fast.

Tuesday, May 3rd is day number 123 of the 2022 calendar year with 20 days until Eid al-Fitr 2022.

For more information, click Eid al-Fitr – Wikipedia

3
World Press Freedom Day is annually observed on May 3 to inform the international community that freedom of the press and freedom of expression are fundamental human rights. This day reminds people that many journalists brave death or face jail to bring daily news to the public.

Although World Press Freedom Day has only been celebrated since 1993, it has much deeper roots in the United Nations. Article 19 of the 1948 Universal Declaration on Human Rights states that everyone "has the right to freedom of opinion and expression; this right includes freedom to hold opinions without interference and to seek, receive and impart information and ideas through any media and regardless of frontiers."

5
May 5 in Canada and the U.S. marks the National Day of Awareness for Missing and Murdered Indigenous Women and Girls (MMIWG), which coincides with "Red Dress Day."

Each year since 2017, May 5 is recognized as the National Day of Awareness for Missing and Murdered Native Women and Girls. The date was selected because the Montana congressional delegation persuaded the U.S. Senate to pass a resolution declaring the National Day of Awareness because May 5 was the birthday of Hanna Harris, a 21-year-old member of the Northern Cheyenne tribe who went missing on July 4, 2013.

The National Day of Awareness highlights the need for ongoing grassroots advocacy and changes to the laws, policies, and increased allocation of resources to end these injustices. On this day we aim to raise awareness about this ongoing crisis and take action. We remember the people who have lost their lives to colonial, gender-based violence, and their families and communities that live daily with the grief of losing loved ones.

5
Cinco de Mayo celebrates the day, on May 5th, 1862, when the Mexican army defeated the French army at the Battle of Puebla. Today Cinco de Mayo is celebrated in Mexico (especially in the state of Puebla), extensively in the United States and to a lesser degree around the world, including here in the lower mainland.

Thursday, May 5th is day number 125 of the 2022 calendar year with 22 days until Cinco de Mayo 2022.

For more information, click Cinco de Mayo – Wikipedia

16

International Day of Living Together in Peace

Living together in peace is all about accepting differences and having the ability to listen to, recognize, respect and appreciate others, as well as living in a peaceful and united way.

"In a world in which we regularly witness tensions, acts of hatred, rejection of others and discrimination, the pursuit of peace and the will to live together harmoniously is more crucial than ever.  UNESCO, and the United Nations as a whole, is striving on a daily-basis to provide people with the means to achieve peace, not only because peace is one of the major goals of the 2030 Agenda, but also because it is a precondition for sustainable development and for the common good."

—  Audrey Azoulay Director-General, on the occasion of the International Day of Living Together in Peace

For more information click International Day of Living Together in Peace (unesco.org)

17

___

17

International Day Against Homophobia, Transphobia, and Biphobia and the LGBT Purge Report

Lesbian, gay, bisexual, transgender, queer and two-spirit (LGBTQ2) people in Canada, and all over the world, continue to experience bullying, discrimination, stigma and violence to the detriment of their health and wellness. On May 17, we mark the International Day Against Homophobia, Transphobia and Biphobia, and unite in our collective efforts to promote a safe, inclusive and stigma-free society for all.

LGBTQ2 people in Canada report higher rates of substance use, poorer mental health and higher rates of suicide attempts compared to the rest of the population. Furthermore, men who have sex with men continue to be disproportionately affected by HIV and other sexually transmitted infections.

The fear of disclosing one's sexual orientation or being judged by health and service providers prevent LGBTQ2 people from accessing the resources, sexual health supports and health care services required to promote and maintain good physical and mental health.

Click here for the April 13, 2022 statement by Minister Ien on the International Day of Pink Statement by Minister Ien on the International Day of Pink – Canada.ca

Click here for The Gender-Based Violence Strategy The Gender-Based Violence Strategy – Women and Gender Equality Canada.  Announced in June 2017, 'It's Time: Canada's Strategy to Prevent and Address Gender-Based Violence (the Strategy) is the Government of Canada's response to gender-based violence.

___________________________________________________________________________

 

World Information Society Day is celebrated each year on 17 May to remind the world of the vision of the World Summit on the Information Society to build "a people-centered, inclusive and development-oriented information society" based on fundamental human rights.

The COVID-19 crisis has not only highlighted the critical role of information and communication technologies (ICTs) for continued functioning of societies but has also brought to the fore the startling digital inequalities between and within countries.

21
World Day for Cultural Diversity for Dialogue and Development is annually held on May 21 to help people learn about the importance of cultural diversity and harmony.

"Equitable exchange and dialogue among civilizations, cultures and peoples, based on mutual understanding and respect and the equal dignity of all cultures is the essential prerequisite for constructing social cohesion, reconciliation among peoples and peace among nations."

For more information, click World Day for Cultural Diversity for Dialogue and Development | United Nations

Nilson Tuwe Huni Kuĩ, an indigenous leader from the Western Amazon in Brazil, delivers an invocation at a special event held in the General Assembly Hall to mark World Interfaith Harmony Week, entitled "United for a Culture of Peace Through Interfaith Harmony" (2013). UN Photo/Devra Berkowitz

29
International Day of UN Peacekeepers

The International Day of United Nations Peacekeepers, 29 May, offers a chance to pay tribute to the uniformed and civilian personnel's invaluable contribution to the work of the Organization and to honour more than 4,000 peacekeepers who have lost their lives serving under the UN flag since 1948, including 130 last year.

This year, the challenges and threats faced by our peacekeepers are even greater than ever as they, like people around the world, are having to cope not only with the COVID-19 pandemic but also the continued requirement to support and protect the people in the countries in which they are based.

The theme for this year's Day is "The road to a lasting peace: Leveraging the power of youth for peace and security."

For more information, click International Day of UN Peacekeepers | United Nations

Today, tens of thousands of young peacekeepers (between the ages of 18 and 29 years) are deployed around the world and play a major role in helping the missions implement their mandated activities including the protection of civilians. Image: UN
Sundown May 1st till Sundown May 2nd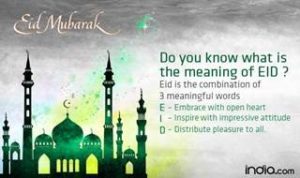 Whether you are Muslim or not, the celebration of Eid-al-Fitr is acknowledged around the world by many of all faiths. Eid is a time for blessings and joys throughout the Muslim community, but because it is a day of charity, it is a day to distribute one's wealth.  Eid-al-Fitr is a direct translation of "Festival of the Breaking of the Fast." Eid-al-Fitr is actually a three day long celebration after the end of Ramadan everyday from dawn to dusk. Unlike other celebrations, Eid doesn't fall on a fixed Georgian calendar date. The date of Eid varies in accordance with the Islamic lunar calendar: if the crescent moon isn't seen, Ramadan will go on for another day. If it is seen, Eid Mubarak!
How does the day begin? 
Celebrations begin at a specific Eid prayer, in mosques, surrounded by your families and friends that you typically see during the month of Ramadan. After prayers, everyone congratulates each other for the ending of this blessed month. Usually, next is the visiting of graves for your loved ones after the conclusion of Eid prayers, to clean the gravesites and dawn the graves with fresh flowers.
How do Muslims celebrate? 
Muslims wear their newest clothes or their finest clothes. Muslims decorate their homes with Eid decorations, lanterns, and twinkling lights. Everyone makes special foods for when their families and friends are invited over to come celebrate alongside. Muslims visit their relatives' homes, as a way to celebrate with their loved one.
Hands are covered in henna patterns, from the nights before that were served as preparation for this three-day long period. Gifts are given to children and those in need, which are commonly known as Eidi.
For more information check out What Is Eid? All You Need To Know About The Muslim Holiday – Muslim or What is Eid? Why Do Muslims Celebrate This Holiday? – Islam Faith
Red Dresses and Allyship                   
By Shelley Saje Ricci and Theresa Pidcock, April 2022
February 14, May 5, and October 4th are significant days to mark on your calendar. The common theme is awareness and commemoration of the MMIWG2S+ (Missing and Murdered Indigenous Women, Girls, Two Spirt and Non-Binary People).
We have April 28th to remember people who have died in workplace accidents. We have November 11th to remember those who fought and died in wars. Now we have September 30th to remember the Residential School children.
Yet we have 3 days to commemorate Indigenous women, girls and two spirit people who have not returned home and come into harms way. Why is that? Why do we need 3 days?
Shelley and Theresa, both from CUPE 728, Surrey Schools and members of the CUPE BC Women's Committee acknowledge this national tragedy that Indigenous women and girls are 12x more likely to be harmed. They agree to learn the truth together and make change where they can, Shelley as an Indigenous Activist and Theresa as an Active Ally.
We started by learning about the Red Dress Project. Jaime Black is a Métis and Finnish artist based in Winnipeg who created a Red Dress Art Installation in 2010. She was inspired by a demonstration she saw in Bogotá, Colombia, where a group of local women wearing red dresses gathered in the capital's public square to honour, support and grieve people in their families who went missing. Jaime created an art project by hanging red dresses to draw attention to the MMIWG. These dresses are hung in high traffic areas to highlight the epidemic of violence against Indigenous women. You can learn more about Jamie by scanning the QR Code at the end of this article. Jaime's Red Dress Project has spread across Turtle Island.
In 2019 Indigenous Activists from the Hospital Employee's Union, Louella Vincent, Regional Vice President and Jodi George, former 3rd Vice President (prior to retirement) collaborated on creating the first HEU Red Dress Event at Surrey's Bear Creek Park on the traditional shared territory of the Katzie, Kwantlen, Semiahmoo and other Coast Salish Nations.
Asked what inspired them to plan and host a Red Dress event, Jodi responded, "The injustice and atrocities that Indigenous women and two spirit face in the downtown eastside, where there is a lack of any action by the law. I wouldn't hear from my daughter for months or even years, and I had no idea where she was. I experienced racism firsthand, when making missing person reports, or calling when a body was found to see if next of kin was notified – no one cared. I wanted to create a Red Dress Event to bring awareness and make a call for change in laws – Laws need to be toughened when it comes to harming Indigenous women, children and two spirit people – it should be a capital offence and then maybe genocide will end. Still sadly we have a long way to go." Louella responded, "We wanted to draw attention and educate our community to what the Red Dress Event represents. The Red Dress hanging in trees speak to everyone – they speak to me, they say, 'Don't forget me, I'm here. Sometimes they say they feel lost'."
At the 2019 inaugural HEU Red Dress event, The BC Federation of Labour Indigenous Worker Representatives, Shelley Saje Ricci (CUPE 728) and Joulene Parent (ILWU International Longshore Workers Union) were asked to make speeches. Theresa recalls Shelley asking their local 728 if they would like to have a tent and share in the event. And so, HEU and CUPE 728 began this partnership to host Red Dress events on or around October 4th at Bear Creek Park.
Three years later, CUPE 728 Surrey Schools is looking to host its first Red Dress Event on May 5th at Bear Creek Park in collaboration with HEU. In the spirit of active allyship and encouraging CUPE men to "walk the talk" our event will invite and make space for allyship from the male union leaders to speak up and show support. May 5th is the National Day of Awareness of Missing and Murdered Indigenous Women and Girls, also known as Red Dress Day.
Active Allyship is one way to support Indigenous people who represent less than 5% of Canadian population. Theresa has been working toward allyship for the past couple of years and has some tips based on her path toward becoming an accomplice and co-resistor (terms she learned from the Indigenous Ally Toolkit by Dakota Swiftwolf.)
Shelley: What are your motivations to be an Ally? What is the first step in being an Active Ally?
Theresa: My husband is Metis, my daughter is growing up Indigenous, I'm a settler, but I'm invested. My first step is that I began to learn within our local, through Indigenous Activists, like you, Shelley, and also Debra Merrier and Nora Hooper. I learned that I need to show up at events such as Red Dress Gatherings and the February 14th Women's Memorial March – I learned by being part of conversations and listening to the stories. I acknowledge I am a guest on this land, and there are many diverse nations, I need to respect this diversity and not assume every nation is the same. In the toolkit, I like the words accomplice and co-resister (how to be more than an ally). I want to help stop systemic racism and be a part of the change to polices and the structures that promote this. I want to become more involved and learn about the issues and help influence the system into making those changes.
Shelley: What are some 'privileges' you have that directly affect and empower active allyship for Indigenous people?
Theresa: I know I can use my privilege to get others to listen, I can push to have indigenous people at the table within our local, on committees, labour councils, etc. I can consult with Indigenous members before making any decisions that affect them. I can amplify their voices; I can step aside to create space and be mindful of their needs and perspectives. I can remind decision makers to run decisions through an equity lens, asking "how will this decision affect Indigenous, 2SLGBTQI, Racialized and Workers with Differing Abilities?"  Lastly, when I show up, I will offer to help, using my time, resources, and skills.
Shelley: What can people do to get involved? Where can they go for more learning and resources?
Theresa: You can show up to events. You can host events. Find out whose land you're on – native-land.ca, read the reports in the links below, invite Indigenous activists to the table for conversation and to events to speak about issues that are important to them. Begin taking some of the 21 challenges by searching #next150. Watch films, Ted Talks and documentaries, Watch APTN – the Aboriginal People's Television Network, especially the news at 8pm. Finally, in allyship, talk less, listen more.
Walking the Talk  https://cupe.ca/sites/cupe/files/reconciliation_guide_eng_final.pdf
Indigenous Ally Toolkit https://www.commonword.ca/ResourceView/82/20250
Red Dress Project https://www.jaimeblackartist.com/exhibitions/
MMIW Report https://www.mmiwg-ffada.ca/final-report/
Downtown Eastside Red Woman Rising Report  https://dewc.ca/wp-content/uploads/2019/03/MMIW-Report-Final-March-10-WEB.pdf